(In no particular order, as decided by Em…)
Even though our podcast is OBVIOUSLY number one mental health podcast, and my new podcast "Good News, Good Night" is also fantastic for your mental health…. We thought I should do a list of the other top 10 podcasts for boosting your mental health, happiness, and wellbeing.
Being a bit of a podcast junkie, the most challenging part of writing this list of recommendations was how to keep it to JUST 10! In the end, I'm pretty happy with my selection, let me know if you think I missed any biggies!
So without further ado, I present to you, my personal top 10 podcasts for mental health.
You can find all these podcasts on your podcast app of choice 🙂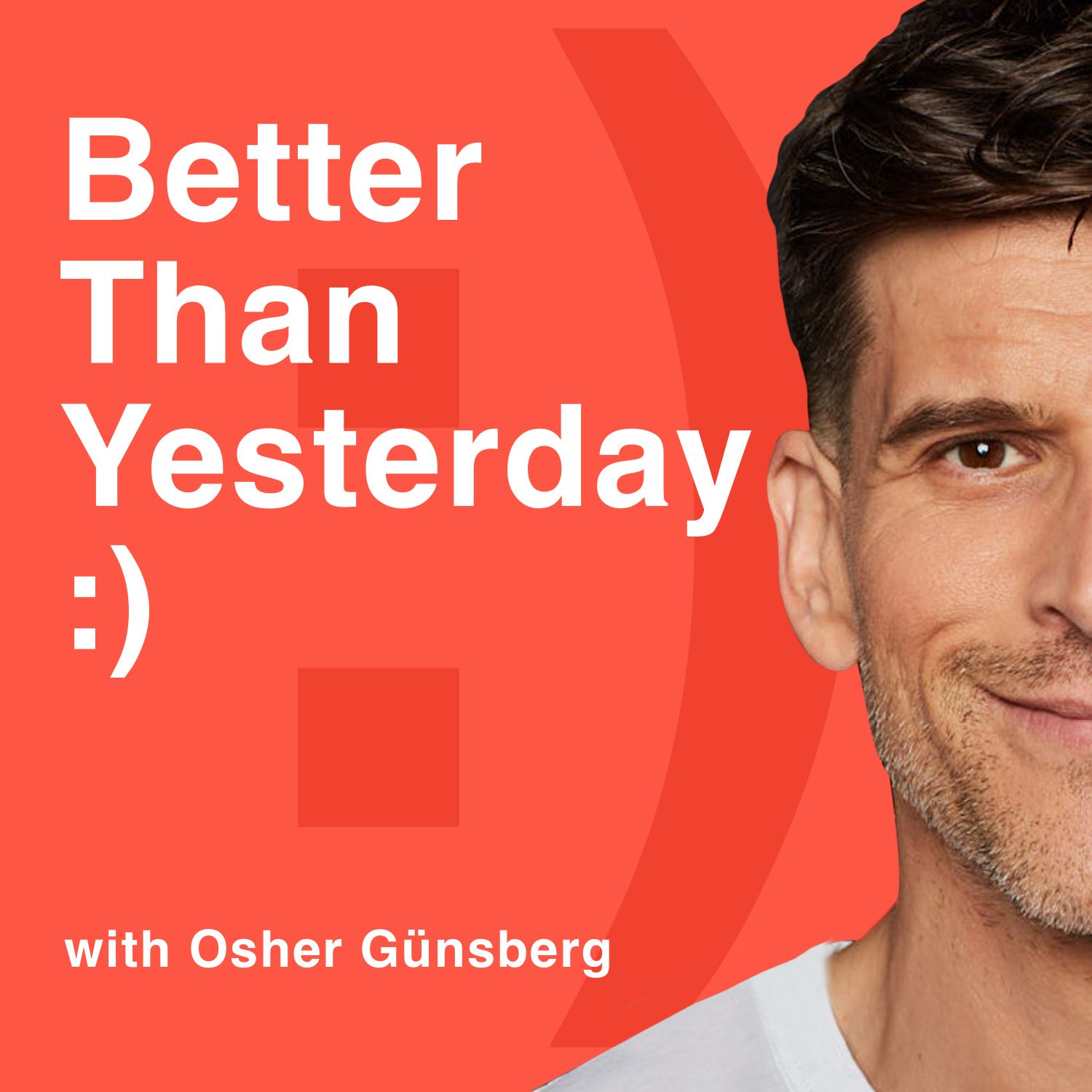 1 – Better than Yesterday
Originally named "The Osher Günsberg Podcast", Osh brings us interesting stories and fresh perspectives on life each week with people that inspire him. This was my introduction to the world of podcasts, I think I started listening when he had made around 70 episodes… he now has almost 350!

Both Osher and his guests open up about some heavy stuff in such a relatable way it's hard NOT to get completely addicted to this podcast… at one point I was averaging 4 episodes a day! He has also created a really beautiful community of listeners on Facebook… It's a place where talking about your mental health is encouraged and supported, and people of all walks of life are connected.
You could either start at the start, or you can flick through and listen to whichever ones tickle your fancy. My favourite episodes to date have been his chats with Nakkiah Lui, Waleed Aly, Sandra Sully, Yumi Stynes, and Kath Koschel. I have never listened to an episode then gone away feeling like I haven't learnt something, or at least seen something from a new perspective, which is exactly Osher's intention so… gold star Osh!
I have tried to keep my raving about Osher to a minimum on the podcast so as not to come off as a crazy fan-girl, but I do really admire Osher…. He speaks out about mental illness and drug and alcohol addiction in such an open and accessible way, is on the board of SANE australia, and has even written a book about his journey…. Awesome stuff!
2 – Do you F*****g mind?
If you're looking for a no bullshit, no holds barred look at mental health and mindset, this podcast will fulfil you as much as it does me. Host Alexis Fernandez is a student of Neuroscience, so she has all the actual science behind her, but brings with that a zesty and youthful approach to "Mindset hacks for a badass life".
I only recently found this one and it DID only start in March so not quite up to Oshers' 300 odd episode log yet, but so far every topic has packed a punch! I especially loved the very first episode on taking a leap of faith… something that goes against every fibre of my being but seems to be a theme of 2020 for me!
3 – The Daily Do
This one is so sweet and lovely, it is literally a 2-4 minute bite-sized poddy which is "a daily dose of do and positive inspiration".
Maybe I'm biased because host Paddy Byrne has my absolute favourite accent of all the accents I have ever heard, but listening to an episode of this each morning was probably one of the best habits I ever developed (and one I really should resume one of these days!). I can highly recommend adding this into your daily listen.
4 – We Want To Be Better
Holy wow I love these two ladies, Annie & Bianka are 2 barely 30s gals just trying every week to be better than the last… Each week they generally have a topic they're trying to be better at and they explore these in funny, insightful, and often raw ways. I especially loved the mini-series they did on alchohol earlier this year which resonated with me so hard.
This is such a good podcast to chuck on when you're feeling lonely… to me it feels like having a coffee catch up with friends! They are so warm and relatable I find myself confused as to why we aren't friends in real life…
PS. Please donate to our patreon so Steph and I can afford to do a best friend photo-shoot like Annie & Bianka above…
5 – Human seeking Human
A newie but a goodie!!
Xandy Shiefer is no stranger to the world of podcasting (see #7 below) but he just started this solo podcast in September and I am absolutely LIVING for it!
This podcast celebrates people who put themselves out there in the world of dating, specifically in the personal ads of newspapers… when I heard he was starting this podcast I had NO idea how bloody heartwarming it would be, but it IS! My favourite segment is the last one, where listeners send in their "Honest Ad". It's kind of like an anonymous confessional, and I always feel so honoured to be let into these strangers' heads in such a deep and emotional way.
6 – The Psychology Sisters
This one does what it says on the tin…
Hosted by Kat the Psychologist and Aimee the Psychotherapist, this podcast is an informative and easy to digest one. I love learning a whole lot of in depth information about everything mental health from specific illnesses, all the way through to gut health.
I love hearing about the nitty gritty sciency world of mental health from people who, again, sound like they could be a couple of my mates!
7 – Beach Too Sandy, Water Too Wet
OK, so this one has absolutely nothing to do with mental health, but it has done the MOST for my mental health, especially on days where I don't have the mental capacity for anything too educational and could do with a really great chuckle…
This podcast features the Shiefer sibs, Christine and Xandy (the bad boy of podcasting himself, see #5 above), read out bad reviews from the likes of yelp, google, and trip advisor, in a dramatic way.
It is SERIOUSLY funny, and has some heartwarming moments too, in it's own hilarious way.
8 – I Just Called To Tell You A Joke
Yet another 2020 podcast that has me grinning from ear to ear. Each episode, host Josie Steele calls someone she loves and… tells them a joke.
Such a simple, lovely, and funny idea that I really wish I had had!
9 – I Weigh
This one is a little more heavy (see what I did there) and informative, but so worth a listen!
Jameela Jamil started the iWeigh movement in response to that ridiculous Kardashian/Jenner post listing all their weights, giving a call-to-action for people everywhere to start weighing themselves on their acheivements, personalities, strengths and weaknesses, rather than on the scales… Very empowering!
10 – My Dad Wrote A Porno
So, poor Jamie… his dad wrote a porno and basically he reads it chapter by chapter to co-hosts James and Alice… if you can't imagine how awkward, baffling, and FUNNY it is, times it by 10 and you may come close!
In need of a belly laugh? This one is FOR YOU! This podcast has been around forever and most podcast lovers probably know about it but it is so worth a mention, this podcast has me crying tears of laughter and quite literally rolling on the floor laughing, and as you may recall from our episode on self-care, laughter is an important and POWERFUL thing!